News
Please follow and like us:
Your company can showcase support for EDC's vital work to provide high quality representation, advocacy, information, referrals, advice, community education and other assistance to low income and vulnerable residents of San Francisco by sponsoring the 22nd Anniversary Celebration.  Please join us!
Click here to buy tickets for this event.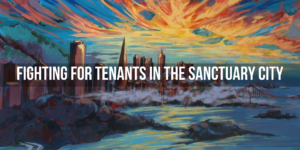 $7,500  and above Housing Hero
Full screen logo in pre-program slide show
Company logo in promotional materials and event invitation
Acknowledgement in EDC Social Media Channels
12 tickets to our 22nd Anniversary Celebration
$5,000 Eviction Defender
Half-screen logo in pre-program slide show
Company logo in promotional materials and event invitation
Acknowledgement in EDC Social Media Channels
10 tickets to our 22nd Anniversary Celebration
$3,500  Homelessness Preventer
Quarter-screen logo in pre-program slide show
Company logo in promotional materials and event invitation
Acknowledgement in EDC Social Media Channels
8 tickets to our 22nd Anniversary Celebration
$2,500  Rental Assistance Supporter
Company name projected in pre-program slide show
Company name in promotional materials and event invitation
Acknowledgement in EDC Social Media Channels
6 tickets to our 22nd Anniversary Celebration
$1,000  Tenant Justice Advocate
Company name projected in pre-program slide show
Company name in promotional materials and event invitation
Acknowledgement in EDC Social Media Channels
4 tickets to our 22nd Anniversary Celebration
$500     Friend of the EDC
Company name projected in pre-program slide show
Company name in promotional materials and event invitation
Acknowledgement in EDC Social Media Channels
2 tickets to our 22nd Anniversary Celebration